Welcome to Ain Al Hayah Arabians

And many a day like the night of lovers I have ridden through, watching the sun when it should set, my eyes fixed on the ears of a bright-blazed horse which was as if a star of the night remained between its eyes …
– The Arab poet Al Mutannabi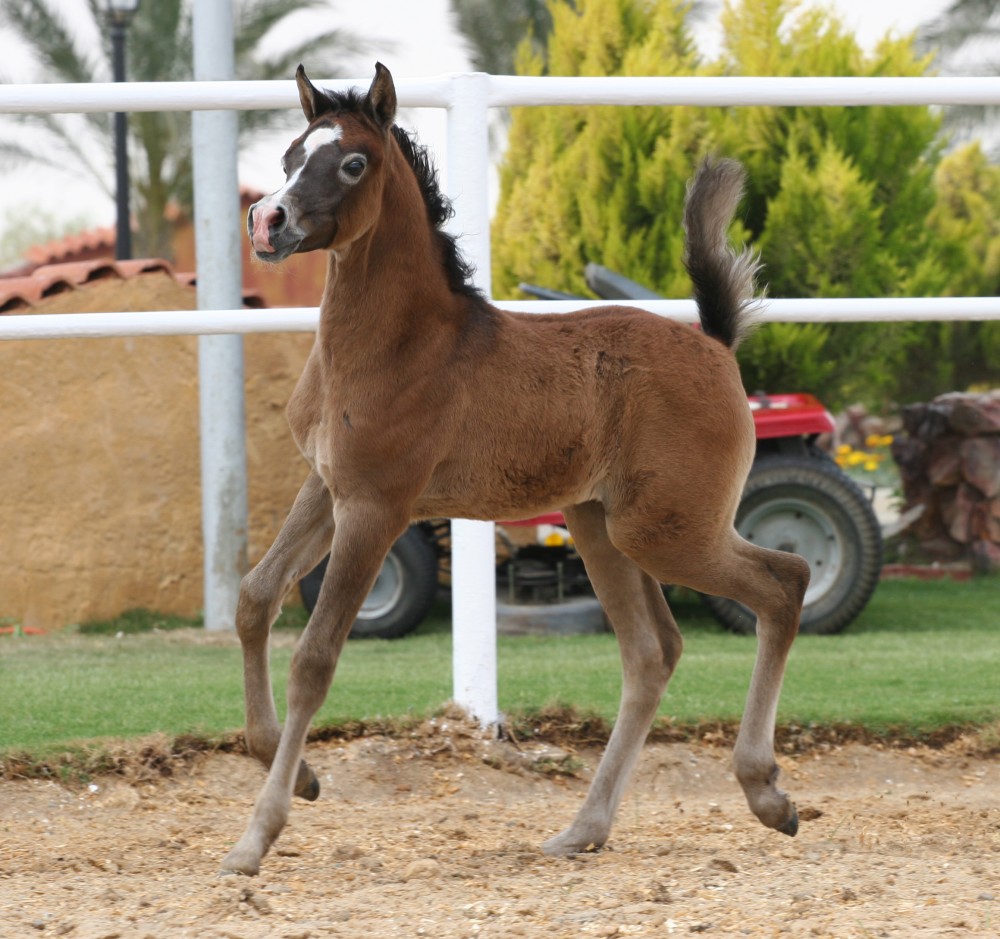 Mayar Al Hayah (2006)
Sheikh El Araby x Bint Molesta by El Shahwan
Dahmah Shahwanieh Farida line Halima family
Breeder/Owner: Ain Al Hayah Stud, Egypt
Photo courtesy of Ward Bemong

For many years the breeder Peter Gross, Gut Dieckhorst, has been my teacher and mentor. My special thanks to him for all the knowledge he gave me.
Our first filly Bint Molesta by El Shahwan out of the Madkour I daughter Molesta I, tracing back to Farida over Moheba II, came out of his breeding program.
I choose her at the age of seven days.
It was the right choice. The filly became an outstanding broodmare, and in her short life gave us four exquisite fillies and one colt. The first filly Mahah by Sheikh El Araby went back to Peter Gross to replace the mother.
Today our breeding program includes the blood of Salaa El Dine, Hanan, Ansata Ibn Halima, Ansata Halim Shah, Ansata Rosetta, Ansata Bint Bukra, Ghazal, Kaisoon, Hadban Enzahi, Madkour I, Mameluck, Moheba II and Bint El Bataa.
Furthermore we maintain the Dahman Shawan Strain with our broodmare as we believe in building up over this lines we can approach our goals.
Mr. Talal Al Kharafi generously gave permission to cover his stallion Ajmal Sinan. Ajmal Sinan is one of the famous sons of Ansata Hejazi, who is still reining at Ajmal Stud, Kuwait.
His son Mahfouz Al Hayah is a promising young stallion to be watched in the near future.
With Hilal Rahim we introduce for the first time the blood of El Haddiyah through Montasir to our program. His pedigree contains important links to Ansata Jellabia, Ansata Ibn Sudan, Moniet El Sharaf, Magidaa over Maysa and Shadwan, one of the most influential headsires of El Zahraa.
In the autumn of 2000 my passion for the Straight Egyptian Arabian Horse led me to the source: to El Zahraa. This visit changed my life. I met my future husband Dr. Mohamed Abd El Lateef, a veterinarian doctor of El Zahraa. The result was that our breeding program was transferred from Germany to Egypt.
You are invited to share your passion for these creatures with us!